The latest release brings the new PACKTRACK interface to our iPhone and Android apps. All of the previous K9 record keeping features in the mobile app are still available, including K9 tracking, training and deployment records. But we've also made a few additions. The first thing you'll notice is that the navigation tabs have been moved from the bottom of the screen into a new side menu which is accessed by tapping the button in the upper left. This frees up vertical space and gives us room to add more options.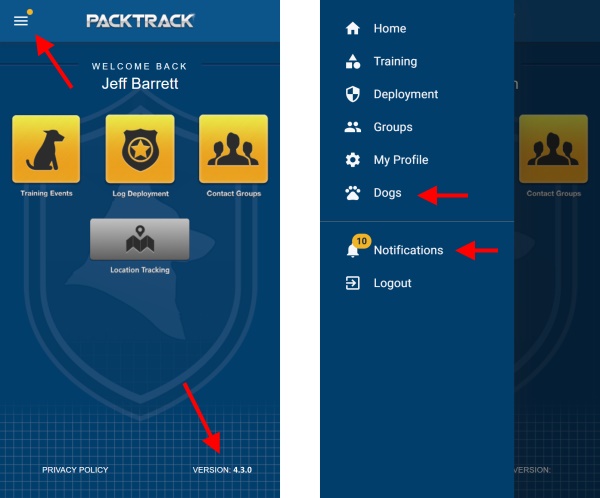 If you see any issues, make sure to update your mobile app to the latest version available from Google Play or the iOS App Store. You can check the version of your installed PACKTRACK app on the bottom right of the home page. You'll need version 4.3.0 or greater.
The Dogs page is another addition to the new mobile app. It's based on the same layout as the PACKTRACK desktop site and should look immediately familiar. From here you can access all of the same Dog configuration settings as are available on the main PACKTRACK site. Upload photos and documents directly from your phone, change dog settings or set a new dog profile picture. You can even drag and drop K9 documents between categories using your finger. Try it out!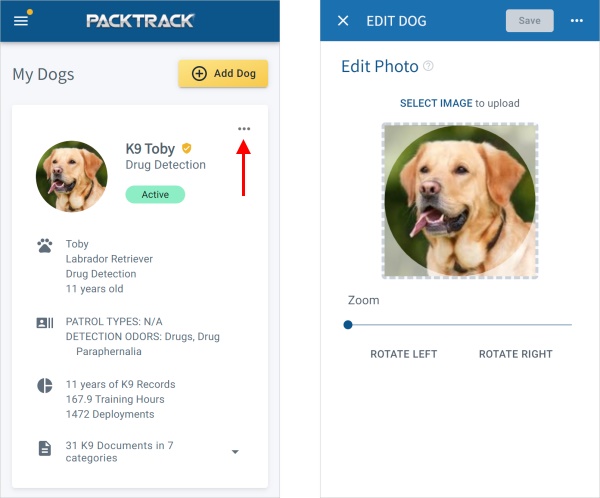 This set of changes is just the first step. Over the coming months we'll be introducing new screens and additional functionality that work the same on the desktop and in our mobile apps. As with the desktop site we've ensured that help information is always available. Tap a question mark in the app to get relevant help whenever you need it.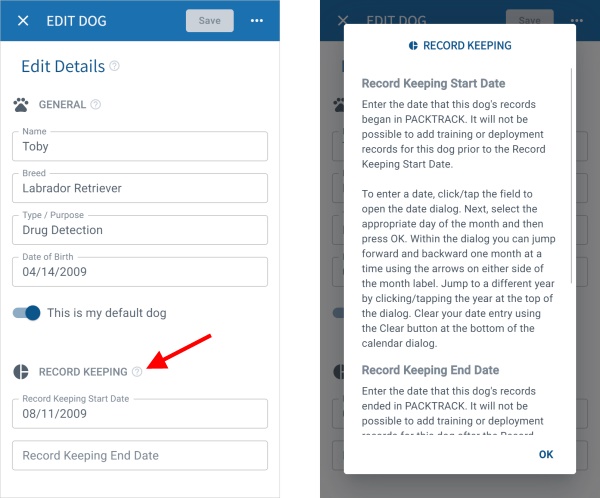 There are lots of other changes here as well. For example, you can (finally) delete a dog if you're just using it for testing. Also, search results on the main site are much improved when a specific dog is selected. Lastly, we've addressed over a dozen bug fixes and refinements to improve how PACKTRACK works. We really appreciate your feedback as we enhance our K9 training and deployment software to be robust and comprehensive yet easy to use. Let us know what is (or isn't) working for you.